Home
Links
Music
Deftones
Korn
Live
Limp Bizkit
Nirvana
Beasty Boys
Life of Agony
Metallica
Pearl Jam
Faith no More
R.A.T.M.
R.H.C.P.
Movies
Pulp Fiction
the Usual Suspects
Star Wars
Leon
Silence of the Lambs
Reservoir Dogs
Desperado
the Matrix
Three Kings
the Blues Brothers
the Negotiator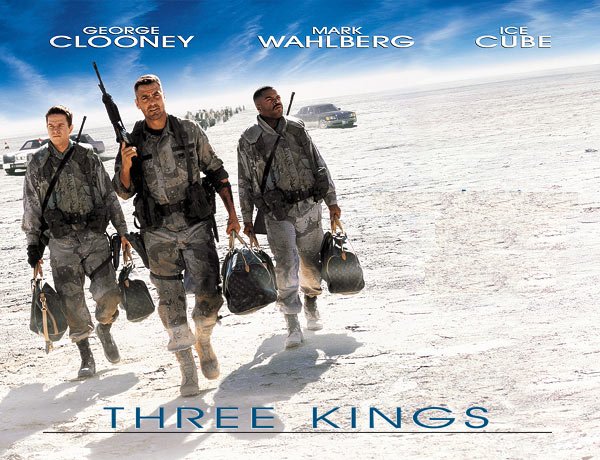 Original Movie poster
The Gulf War is over... Three soldiers want to go home... ...rich. Three American soldiers (Clooney, Wahlberg, Cube) serving in Saudi Arabia during the aftermath of the Persian Gulf War find a treasure map that might lead to treasures and gold Saddam Hussein stole from Kuwait, which sets them out on a wild desert adventure. What they soon find is that they are conflicted between their greed for the gold and the plight of the people of Iraq.
This movie was shot using the same techniques that were used for most Vietnam movies making the war experience very cool. The director experiments with cool results such as a shot inside the body seeing a bullet-hit. Must see!!
At the time this page was made by me there was not yet a script to be found. So go see the movie.